ESTES PARK EVENTS
Estes Park comes to life in the Colorado Rockies with special events that display the sights, sounds and heritage of the community. Arts and Crafts and music fill the air along with fine foods and drink. Join in the merriment of Rocky Mountain National Park and Estes Park.
---
Memorial Day Weekend
MAY 25-27, 2019
Delight in the three-day Memorial Day weekend in Estes Park with an abundance of events and activity all three days. Amidst budding trees and blossoming flowers, Estes Park is bustling!
Annual Art Market
From Saturday through Monday, May 25 to May 29, check out Bond Park in the center of downtown for a wide variety of one-of-a-kind art market. More than 90 local, statewide and national artists showcase their talents in an annual juried art show and market. Don't forget to check out Kid Row which is an interactive art experience for kids to inspire their creative side and encourage young people to explore the arts.
From pottery to glasswork, jewelry to paintings, the spectrum of quality artwork is impressive. Don't miss the Gallery Row that features work from
Estes Park art galleries
. Live music and food are available at the event throughout the weekend.
Saturday & Sunday 9 am to 5 pm
Monday 9 am to 4 pm.
Then, stroll the downtown shops, dine on river-side patios and head into Rocky Mountain National Park for hiking, wildlife watching, scenic drives and outdoor adventures!
---
Jazz Fest and Western Arts Show
JUNE 1-2, 2019

Check back for 2019 ticket prices and line up.
For two days the mountains are alive with the sounds of great jazz. The Estes Park Jazz fest has become one of Colorado's premier Jazz Festivals, noted for its commitment to excellence in Jazz. Presenting the finest national and regional Jazz artists, the festival features stellar line-ups of performers, representing the music from New Orleans roots to its thriving and diverse present, and venturing into the music's vibrant future. Taking place at Performance Park, you'll enjoy sounds of jazz with views of the Fall River and enchanting rock walls surrounding the amphitheater.
At the 29th annual Estes Park Jazz Festival, enjoy music from seven Jazz bands & musicians over two days. Sip on the fine wine of local Colorado wine selections in the wine garden. Enjoy tastings from Estes Park's Snowy Peaks Winery along with Turquoise Mesa Winery.
Tickets: $10 per day or $15 for a weekend pass, 12 & Under are free. Tickets will be sold at the door, no pre-sale.
---
Wool Market and Fiber Festival
JUNE 6-9, 2019

Workshops June 6 & 7
Market: June 8 & 9
Check back soon for 2019 vendor list, demos and workshops.
Family events don't get much better than this – hands-on activities; fuzzy, approachable animals; entertaining performances; and shopping for mom and dad.  Those familiar with the wool and fiber industry know this event, held at the Estes Park Events Complex, is the place to be. Admission is free.
New this year! Check out the Knitting & Spinning Corner, as well as concessions and food trucks available to fight your hunger!
Wool Market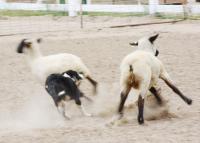 The 28th Annual Wool Market will take place at at the Estes Fairgrounds and Event Center.  See sheep, alpacas, llamas, rabbits, goats and other fiber animals. As usual there is the ever-popular vendor barn, the animal tents, demonstrations including sheep to shawl, a children's tent, sheep shearing, herding dogs and more.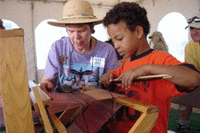 41 workshops spanning various fiber arts including spinning, weaving, knitting, natural dyes, twining and more will be offered at the 2018 Estes Park Wool Market and Fiber Festival. Find a full list of workshops and register here!
Show, Shop and Share
In addition to the fun activities, the professionals who
participate in the Wool Market show and sell their incredible goods. Showing hand-spun yarns and threads to finished hats, gloves and bags, the skilled artisans display an amazing selection of unique materials and products. Inspired by what you've seen? Start your own projects by purchasing the tools right at the market.
Children's Area
Barn W will feature hands-on activities to give young ones an introduction to the world of fiber! A variety of animals will be hanging out so kids can get a look up close.
---
Scandinavian Mid Summer Festival
JUNE 21-23, 2019

Come celebrate the Scandinavian Midsummer Festival! The Midsummer Festival is a Scandinavian tradition that celebrates the summer solstice. The festival is held in downtown Estes Park at Bond Park, located at the intersection of Elkhorn Avenue (US 34/36) and MacGregor Avenue.
Be entertained and educated about the Scandinavian traditions and culture with fun and lively dancing, exhibits, kids' activities, and more! Whatever your heritage may be, join in the many families across the country from Scandinavians descent who gather at the festival to share their heritage.
The festivities begin Friday in the beer garden at 4:00 pm till 9:00pm. On Saturday at 9:30 am the festivities continue with the raising of the Maypole, followed by a Grand March entrance. Costumed representatives from each of the five Scandinavian countries enter the park carrying the flag of their country, followed by the national anthems. Dancing and live music continue all day with opportunities for the audience to participate in some dances.
Spend time browsing the large art & craft fair. Exhibitors will be selling traditional Scandinavian food, baked goods, decorations and hand-made crafts. The folk-art of decorative painting on wood called rosemaling in Norway, and dalamaling in Sweden, will be well-represented. Other exhibitors will have hand-crafted items such as pottery, fabric, woodworking, jewelry, painting, metal work, photography, glass and more. All the exhibitors will have some Scandinavian inspired or traditional work.
The craft demonstration tent will have a combination of workshops and demonstrations, including hardangar and Swedish huck embroidery, spinning, lace knitting, and children's knitting lessons. At the Lefse Tent one can see demonstrations on how to prepare these famous thin Norwegian potato pancakes.
Admire the Scandinavian automotive industry at the classic Saab and Volvo auto show, where many different models will be on display throughout the weekend.
Norway will be well represented by a Viking encampment re-enactment by the Fjellborg Vikings of Colorado. There will be swordsmanship, a Viking ship replica, traditional crafts and daily life demonstrations at the historically correct encampment.
---
Videos from Previous Years
4th of July Weekend Celebration
JULY 4, 2019

Base Camp to Rocky Mountain National Park, Estes Park is the ideal all-American destination for Fourth of July celebrations. In addition to one of the most spectacular fireworks displays in the state (always held on July 4), this quintessential Colorado mountain village offers a variety of family-friendly festivities and events specifically tailored for the holiday, in addition to an abundance of outdoor recreation activities.
On Wednesday, July 4th, 2019 spend the afternoon enjoying hiking, bike riding, paddle boating, miniature golf or check out the Coolest Car Show. More than 100 vehicles, from "Steam -to-Electric" will be displayed at the Estes Park Events Complex, located at the Fairgrounds at Stanley Park. Along with steam and electric cars, other street rods, stock cars, muscle cars, sports cars, vintage and classic cars will be on display.
At 7 p.m., the Estes Village Band tunes up for its annual patriotic concert featuring the works of John Philip Sousa and others. The concert is free to attend and will be held at the Performance Park Amphitheater, at the west end of downtown.
The Big Bang Concert is everything you are looking for in one location! A view of the fireworks along with music, food, local craft beer and wine at the Estes Park Fairgrounds in the Grandstands.
The Fireworks Show starts at 9:30pm over Lake Estes! You won't want to miss one of Colorado's most glorious fireworks displays! Find a grassy spot at Stanley Park, along the Lake Estes Trail or on your favorite mountainside to join in this annual tradition of national pride.
---
Videos from Previous Years
Rooftop Rodeo
JULY 8-13, 2019

There's non-stop, rip-roarin' cowboy action in store for rodeo fans at Estes Park's annual Rooftop Rodeo, a PRCA sanctioned event. It has been recognized as the best small rodeo in the nation, along with being named the top medium-sized rodeo in the Midwest, and the #1 summer rodeo in Colorado by Real American Cowboy Magazine. Nightly professional rodeo performances, with world-class stock from PRCA Hall of Fame stock contractor Cervi Championship Rodeo, combine with Mutton Bustin' competition for the kids, and a parade through downtown Estes Park annual affair. Watch the Rooftop Rodeo live broadcast on Saturday, July 8th.
Enjoy the VIP Experience at the Rooftop Rodeo! Enjoy an unprecedented level of exclusive access, convenience and extras! Beginning with a tour of the rodeo grounds, you'll then have a blocked off area to enjoy incredible views of the arena and complementary drinks from a private bartender. You'll also have access to the hospitality tent where you'll enjoy free food from local restaurants and be able to dine with the cowboys! The VIP Experience at the Rooftop Rodeo is sure to be a night you won't soon forget!
---
Videos from Previous Years

Estes Park Wine Festival
TBD

A celebration of Colorado wine in the heart of downtown Estes Park. Enjoy tastings from over 20 Colorado wineries, fresh food, local Colorado vendors and live music. The second annual Estes Park Wine Festival sets up for the weekend in beautiful Bond Park, where festival-goers can soak in the summer sun while enjoying sipping on a variety of locally created wines. From red to white and pink, the Estes Park Wine Festival offers the opportunity to taste and learn about each style of wine and the unique process of how wine is made in Colorado.
Videos from Previous Years
https://www.facebook.com/Estesepic/videos/711880555656407/?t=0
---
Labor Day Arts and Crafts Show
August 31 – Sept 2, 2019

The Estes Park Arts and Crafts Show is held every year over Labor Day weekend in downtown Estes Park just west of the Town Hall and Library on Elkhorn Ave.
Over 100 artisans offer one-of-a-kind handcrafted items for you to purchase or just to enjoy viewing. Make your choices immediately or ask your favorite artists for their contact information and shop later.
This year's show is scheduled for Sept 1 – 3, 2018. This decades-old Estes Park event is a continuation of a fabulous Labor Day weekend tradition.  The weather is usually beautiful and facilitates a weekend of unique shopping in the heart of Estes Park. Many visitors make it an extended weekend with all that Estes has to offer – fabulous shops, restaurants, lodging and of course Rocky Mountain National Park.
This show is sponsored by the Estes Valley Sunrise Rotary Club.
Visit our Facebook page at:  https://www.facebook.com/estesparkartsandcraftsshow
---
Longs Peak Scottish Irish Highland Festival
September 5-8, 2019

For more than three decades, Estes Park has been the backdrop for one of the nation's largest gatherings for those of Scottish heritage, those interested in Scottish heritage, those who like the sound of Scottish brogues, those who enjoy a Scottish malt beverage, those who enjoy the rhythmic sound of Scottish footsteps on a dance floor and more.
Held annually the weekend after Labor Day, Estes Park's Longs Peak Scottish-Irish Highland Festival is the largest gathering of its kind between the Mississippi River and California, and traditionally hosts bands from Great Britain, Scotland, Canada and, of course, the United States.
For more information see their website at http://www.scotfest.com/
---
Autumn Gold Festival
September 21-22, 2019

Aspens turn to a golden hue. The sounds of elk bugles reverberate throughout the air. It's a perfect season for one of Estes Park's late-autumn traditions when a series of bands herald Autumn Gold – a Festival of Bands, Brats & Beer, scheduled for Saturday and Sunday, Sept. 22 and 23, 2018.
Entrance is free to dance, listen to music and enjoy the festival. The Estes Valley Sunrise Rotary will be offering mustard-smothered bratwursts, cold brews, soft drinks and more as talented local musicians and award-winning Colorado band play. Browse the vendor booths who will be offering corn on the cob, funnel cakes, fresh squeezed lemonade, roasted almonds and desserts.
Bring the kids! Free family activities include face painting, corn bag toss, a bounce house and a classic car show.
Don't miss the Autumn Gold raffle with the winner taking home the grand prize of $5,000. Additional prizes include a $2,500 runner-up prize and various other cash awards. Raffle tickets are $25 each.
---
Elk Fest
September 28-29, 2019

The haunting call of the bull elk fills the Estes Valley during the early days of fall. The call begins with deep, resonant tones that rise rapidly to a high-pitched squeal before dropping to a series of grunts.
What is this strange sound and what does it mean?
To celebrate the annual elk rut and learn about the "wapiti," the Native American name for elk, Estes Park hosts the 18thAnnual Elk Fest in Bond Park and the surrounding area.
The free festival features bugling contests, a Cabela's Daisy Inflatable Shooting Range & Elk Camp, exhibits, the Rocky Mountain Raptor Program, elk seminars, a Mountain Man Rendezvous, Native American music, dancing and storytelling, elk-viewing bus tours, a childrens' area with elk-themed activities, and a craft beer garden.
---
Videos from Previous Years

Pumpkins and Pilsners
October 12, 2019

This free fall festival has activities and entertainment for all ages. The perfect place to pick your pumpkins with live music and craft beer for the adults, as well as games, crafts and a bounce house for the little ones.
Enjoy additional activities like pony rides (free from 1-4pm), face painting, temporary tattoos, tractor rides, pumpkin bowling, sack races and giant Jenga. Challenge your friends in the strider mini-bike course or on the hay bale jump.
The pumpkin patch sells pumpkins for only $5 each and you can set them aside in the well-guarded 'sold' corral while you enjoy the fun. Bring or decorate a pumpkin and enter into the decorating contest (by 1pm) for a chance to win great prizes!
---
Rocky Mountain Craft Spirits Festival
Saturday, October 26, 2019 | 2-5pm

The Rocky Mountain region is home to a booming craft spirits industry. Distillers and consumers of fine spirits are invited to celebrate this craft at a tasting festival in Estes Park, Colorado. Admission includes a souvenir tasting glass, complimentary pours from a variety of distillers, bar games, and live music. So raise a glass to raised standards, and make your plans for the last Saturday in October.
---
Fall Back Beer Festival
November 2, 2019

Held each year on the day we turn the clocks back, Fall-Back Beer Fest is not only a celebration of beer, but also the people who make it. Held in the new Estes Park Events Complex!
With over 100 different beers being poured by the brewers themselves from over 30 Colorado breweries, festival goers are sure to walk away having learned something new about their favorite beer from the people who created it.
The Fall Back Beer Festival also coincides with the American Homebrewers Associations Annual Learn To Homebrew Day. To help celebrate, a number of AHA sanctioned homebrewing clubs will be present and brewing for everyone to watch.
---
Catch the Glow Christmas Parade and Celebration
November 29, 2019
As dusk falls the day after Thanksgiving, the magic begins to unfold! Bands come down the street playing favorite Christmas songs with tiny white twinkly lights reflecting in the bright polished brash. Dancers sway to music. Floats loom from the night, huge and ethereal, with more and more lights that add to the mysteries and magic of Christmas legends and solstice dreams.
With holiday music broadcast outdoors throughout the town helping set the scene, you can stroll the magical downtown and visit with Santa Claus at his workshop near Bond Park from noon to 2pm. The lighted Christmas parade begins at 5:30 pm and runs the length of Elkhorn Ave. All activities are free.